Ennov ePRO


Electronic Patient Reported Outcomes Software
Intuitive data entry
Fast access to patient data
Higher patient compliance
Reduced trial costs
Increased data quality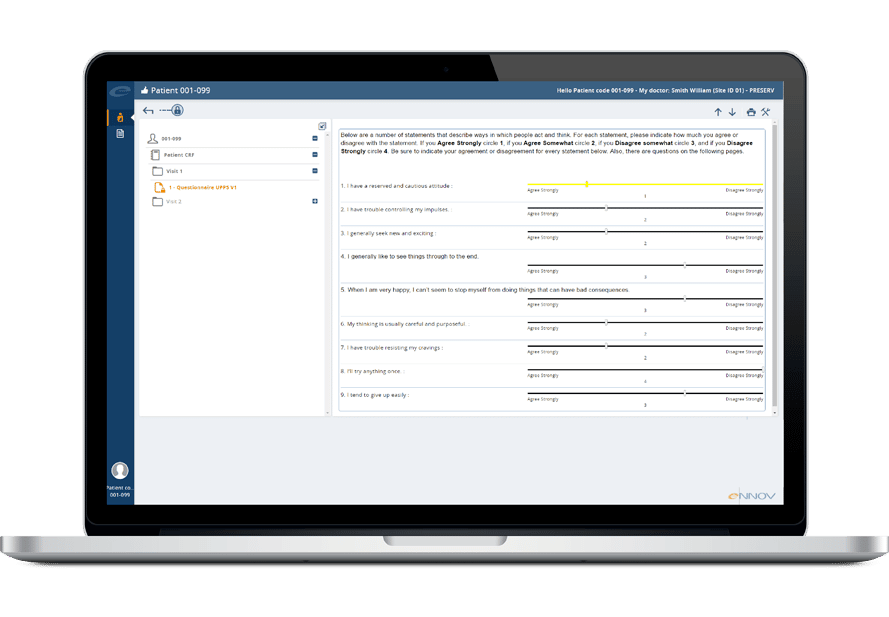 The Patient Data Collection Challenge
Paper-based clinical trials are inefficient, expensive and error-prone.  This is particularly the case when using paper diaries and questionnaires to collect patient data and access clinical outcomes.  Paper diaries are cumbersome to use and can lead to data integrity issues.  Many times the paper forms are filled out incorrectly or incompletely, leading to unnecessary delays while the the data excursions are researched and corrected.  Transcription from paper-forms into data management systems is not without it's own set of risks and complicating factors.
The cumbersome nature of paper makes patient compliance difficult to enforce.  Recent studies have shown that 90% of clinical trial patients prefer to use an electronic platform to record their information.  In fact, patient compliance levels of over 90% are common with electronic trials while compliance levels for paper-based trials are in the 10-15% range. 
A Digital Alternative to Paper Diaries
Ennov ePRO facilitates the direct capture of electronic patient data without the worry of access, recovery or security.  Patients enter their data easily using an intuitive and user friendly web application.  The data is immediately checked for validity, consistency and completeness and is made available to the investigators and site personnel responsible for monitoring patient compliance and safety.
Patient self assessments and collecting quality of life information is made easier with Ennov ePRO.  Navigation within questionnaires is easy and intuitive. Patients can easily understand the interface and access the system from the comfort of their home.  Our Visual Analog Scale (VAS) allows patients to effectively report pain levels or other information that is typically collected in a graduated manner.  Throughout a study, patients are automatically notified (via personal messaging) of the availability of new questionnaires to complete – accelerating the trial while improving data quality.
Ennov ePRO can also be used in veterinary studies where behavior and feeding information can be entered by the pet owners.
Safe, Secure and Compliant ePRO software
Ennov ePRO ensures that patient data is secure and patient privacy and confidentiality is protected.  All ePRO data is encrypted and stored separately from medical data.  Ennov ePRO is compliant with all FDA and EMEA regulatory requirements including 21 CFR Part 11.
Ennov ePRO software – Part of the Ennov Clinical Suite
Hundreds of corporate customers trust Ennov
Providing you freedom of choice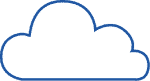 Cloud-based or On Premises